Return to the gallery home page.
Chrysozona gloriosus
("gold bands" "glorious")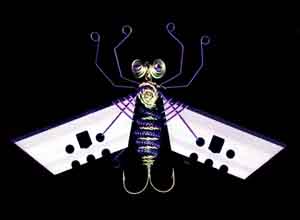 Click to zoom in.
Specimen #01114, 8/28/2000
Wingspan: 4 inches (10 cm)
Composition: 12 karat gold filled wire, purple niobium wire, steel utility blades, golden fishhooks
Comments: Always did like this one, the dramatic purple and gold seemed so regal. This was also my first sculpture using a heavy coiled abdomen. Unfortunately, I managed to completely wreck this sculpture when I was trying to spray on a protective coating. I've tried to get the mangled coating off but now it just looks worse... At least I have these old pictures to show what it was like. Maybe someday I'll find some way to salvage it in a "redux" variation.