Return to the gallery home page.
Mariae bunniais
("Maria" "rabbit" "greek nymph, niaid")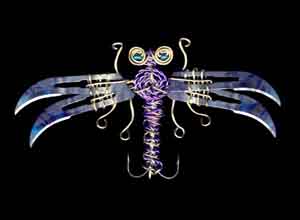 Click to zoom in.
Specimen #01119
Wingspan: 4 inches
Composition: 12 karat gold filled wire, purple niobium wire, #12 surgical steel scalpel blades, bronze treble fishhook
Collection site: Sardis, Lydia
Comments: I created the pseudo-iridescence on the wings using a mini-torch. The point of the flame forces the metal first to a brownish-pink, and then to blue. Careful striping resulted in this pattern. This specimen was requested for someone named Maria, so I incorporated her first name and her nickname in the Latin.